"Sometimes it's like a dream," says Jacqueline Whitman. "Did I actually give birth to Ariel? Was she really here for 26 years?" Katczinzki Ariel Begay was Whitman's eldest daughter. She was reported missing July 3, 2017. For months, Whitman and her family searched in vain for Ariel, following leads and carrying her photo throughout the Navajo Nation and its border towns. October 19, Navajo Nation criminal investigators visited Whitman at her home with the news. Ariel was murdered; her partial remains discovered at the bottom of a wash near their home. No arrests have been made in Ariel's case.
According to a 2016 report by the National Institute of Justice, 84.3% of Native American women and 81.6% of Native American men have experienced violence in their lifetimes. According to the same study, Native women are ten times as likely to be murdered compared to the national average. Despite the prevalence of violent crimes, these cases have a low prosecution rate. Between lack of tribal resources, jurisdictional conflicts, substance abuse and racist conflict in border towns, Native Americans are murdered or go missing at alarmingly high rates with few cases resolved.
This violence has deep historical roots. The pain reverberates through centuries of poverty, genocide, disenfranchisement, and abuse. Violence, murder, the missing leave a gaping hole in the lives of the family members left behind to pick up the pieces. That pain echoes out. It's in their grief, in their fight, in the community. It is in the demand for changing legislation. It echoes the resounding scream "no more."

The Navajo Nation is the largest reservation in the United States equaling roughly the size of West Virginia at 27,425 square miles and spanning three states – New Mexico, Arizona and Utah. The Navajo police force is only at 200, which is 70 short of the tribal mandated minimum. It is common for a single officer to patrol 1,000 miles alone. Underfunded and overwhelmed, cases go cold and families are left mourning loved ones with no closure.
Between lack of tribal resources, jurisdictional conflicts and little media coverage, cases of missing and murdered Native Americans will remain unsolved. Fed up with inaction, a national movement for missing and murdered indigenous women, #MMIW, has formed. In 2015, Meskee Yatsayte, inspired by the national movement, created Navajo Missing Persons Updates where she scoured the national missing persons database for Navajo cases and launched a grassroots movement to raise awareness of the missing men and women on Navajo. According to her independent research, 28 people are currently missing, 17 are men, though the numbers may change daily.
Yatsayte is adamant about including men in the missing and murdered indigenous women movement, as violence, murder, and disappearances affect them at disproportionately higher rates. In 2018, Yatsayte met with the Vice President of the Navajo Nation Jonathan Nez to draft a resolution declaring 2018 to be the Year of Missing Relatives for Navajo.
Katczinzki Ariel Begay, 26
Katczinzki Ariel Begay, 26, who went by Ariel was reported missing July 3, 2017. After months of following leads and praying for her daughters safe return, investigators discovered Ariel's torso in Querino Canyon. Whitman and her other six children have been struggling with her loss ever since. To date no arrests have been made in Ariel's case and her body is still in evidence preventing the family from providing Ariel with a funeral.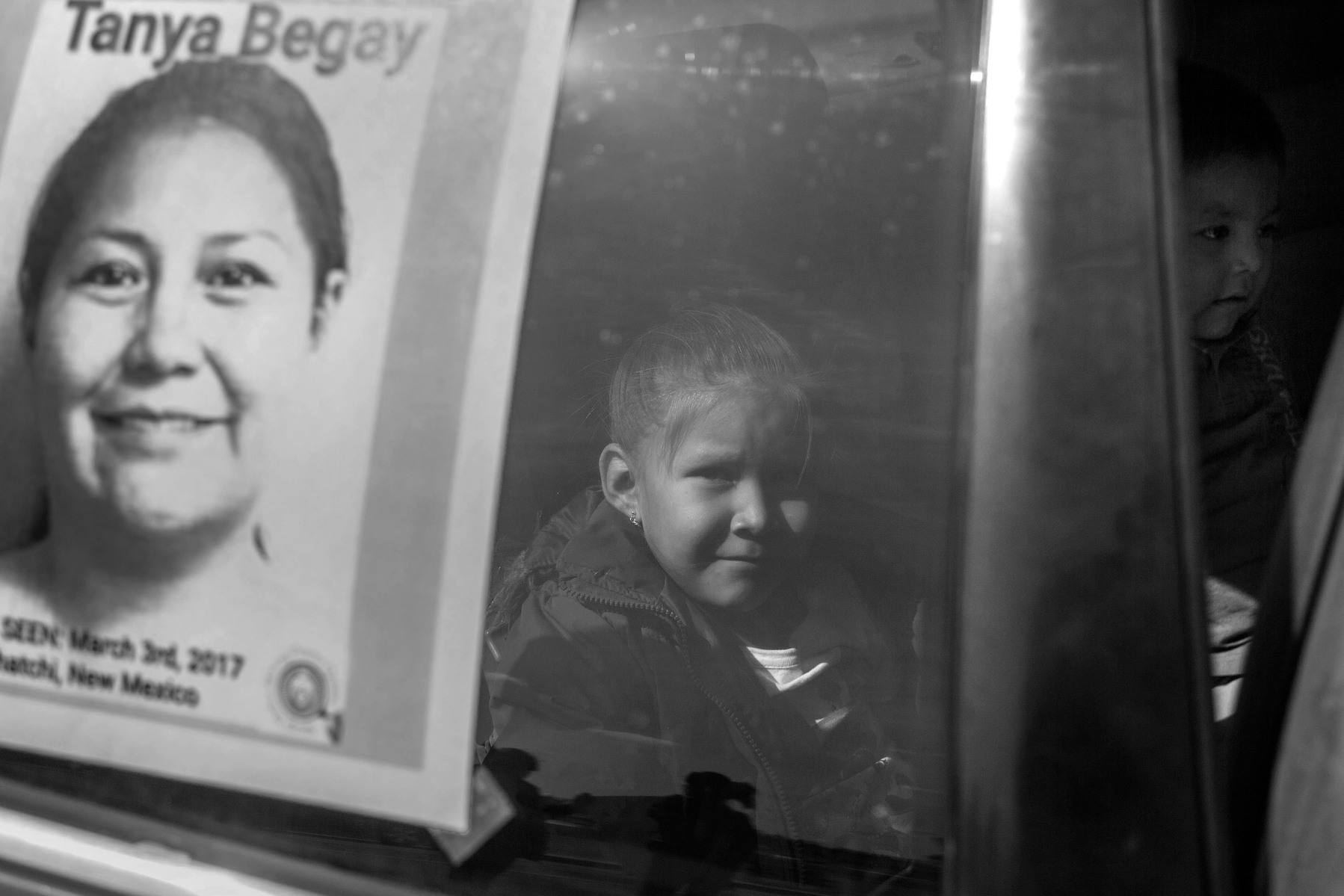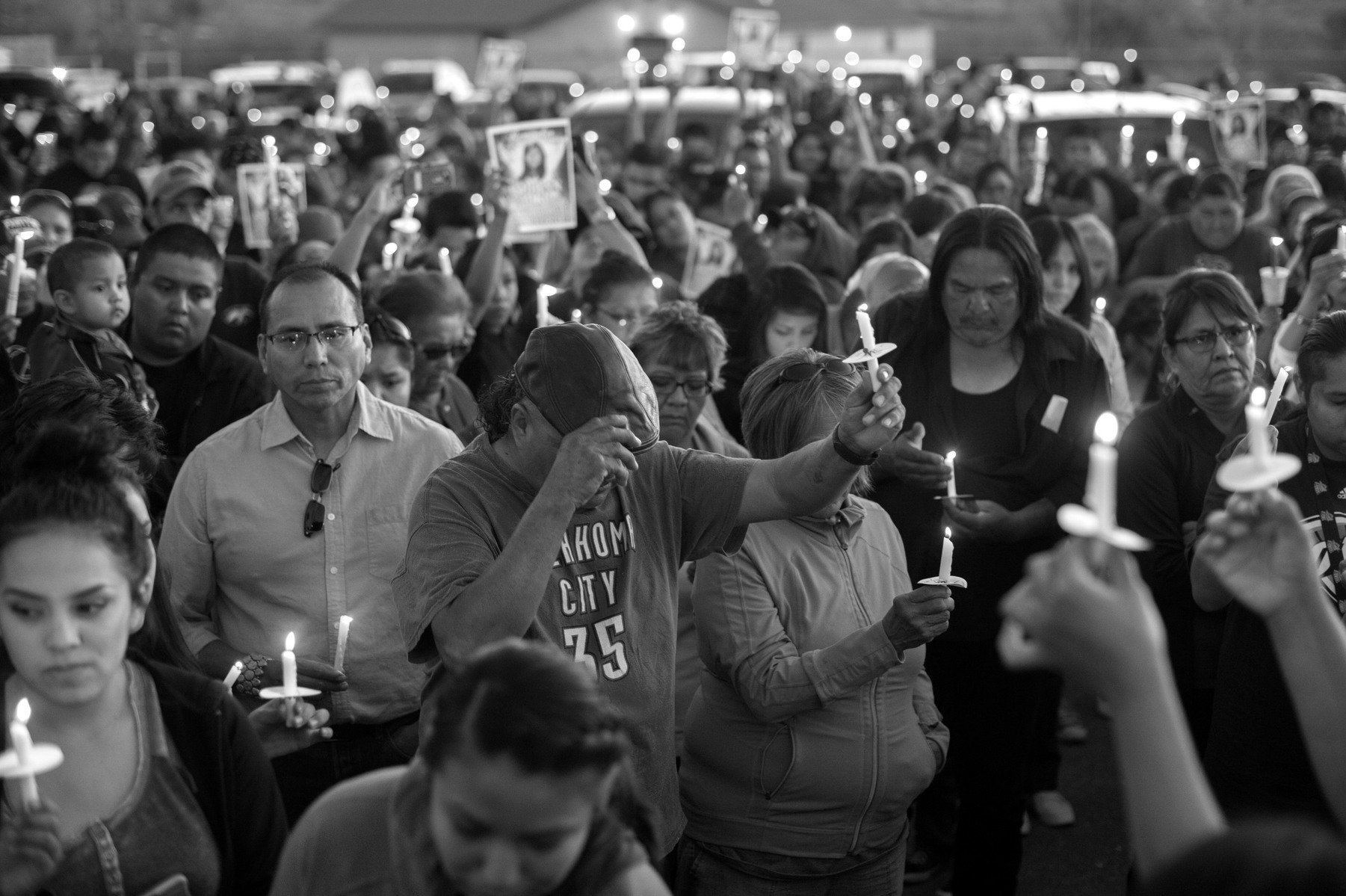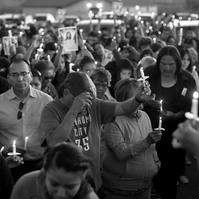 Loreal Tsingine, 27

Loreal Tsinigine was killed by Winslow Police Officer Austin Shipley Easter Sunday 2016 when she advanced on the officer holding scissors while he was attempting to arrest her in association to a convenince store robbery. Officer Shipley fired his gun five times at Tsingine. Officer Shipley had a documented history of excessive force, yet was found not guilty in her murder. March 2018, Navajo Nation has sued the federal government and Winslow over the wrongful death of Tsingine.
Nicole Joe, 40
Flagstaff, AZ, Christmas Day 2017 Nicole and her boyfriend got in a fight, he beat her unconscious and left her outside during a snow storm where she died. "I think most of her life was darkness," says Sarafina Joe as she reflects on the life of her younger sister Nicole. "My sister, she was stolen from me a long time ago... Her whole entire life it seems to me like she was just violated by men. Abused by men, mistreated by men all the way to the end when a man murdered her."
Danny Tsosie, 21

Daniel Tsosie grew up in Chinle, AZ with loving parents and younger siblings, both biological and adopted. July 1, 2014. Daniel left through the gate on that morning and has not been seen since. The Tsosie family has searched independently for him, but as of yet they have had no luck locating him.
Ashlynne Mike, 11
May 3, 2016, Ashlynne Mike and her younger brother Ian, 9, were kidnapped by Tom Begaye Jr. after school in Fruitland, NM. He drove the children to about six miles south of the Shiprock Pinnacle where Begaye sexually molested Ashlynne and bludgeoned her to death with a tire iron, according to court documents. Ian was let go and found later that night walking along the road. Due to jurisdictional conflicts and an understaffed police department, it wasn't until 9:07 p.m. the Navajo Police requested a federal Amber Alert, eight hours after she first got in the red van with Begaye. August 1, 2017, Tom Begaye Jr. pled guilty to the crimes. February 2018, in honor of Ashlynne, Congress passed the AMBER Alert in Indian Country Act, extending federal funds and eligibility for Native Tribes to create their own Amber Alert system.
There is still no national study looking in to how many Native Americans are currently missing.